We're just hanging out at the ball store today!  A's pink shirt is from Wittlebee and it says "Keep Calm & Giggle." I haven't managed to collect enough pictures of that box yet, but I loved it. I just totally skipped the showroom and let Wittlebee pick, and it was awesome.
Then we made our own subscription box.  Scroll down for the pictures! The kids engineered this one by themselves. I'm really not going to complain. It was less messy than some of their other activities!
First, we have to have squiggles.
Then we have to dump all the squiggles on the floor.
Meet our new office supply surprise box!
It needs wrapping paper. But we have to stand on it.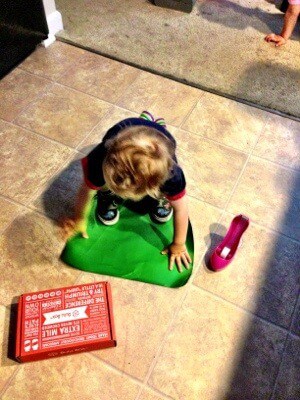 Our surprise is all wrapped up.