The Jungle Stand Tasting BAR is one of the most unique subscription boxes I have run across and I was really excited to review the Jungle Stand Tasting Bar for May.  May's tasting bar was provided to me by Jungle Stand in exchange for my review. Every Jungle Stand Tasting BAR contains six samples to taste, each representing a unique flavor. The Tasting BAR is $9.92 per month including free shipping!
For this experiment I gathered some of my favorite girls (my cousin's daughter, my niece, my cousin's daughter, and my daughter. E tried everything too!). It was time for a tasting game!
The Tasting BAR arrives in this yellow box.
We are going to experience something magical! The kids were really amped for the tasting game!
The front side of the tasting card. I didn't know what was inside yet. I was scared. I had a group of girls ready to taste!

What's inside the May Jungle Stand Tasting BAR Box?
I have to admit I was relieved when I saw chocolate.  The Tasting Bar offers unique flavors but at least in this month it was in familiar form! Chocolate brownie brittle was sure to be a hit. Each sample is packaged individually in its own little compartment.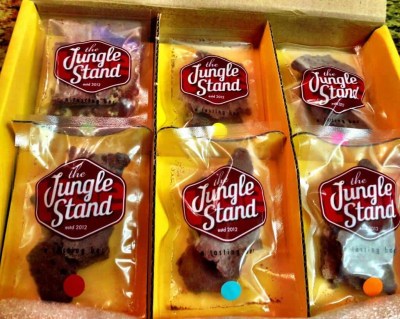 I gave a quick check to the ingredient list so I could see what was in each one. If you're tasting by yourself or with other adults totally ignore this (unless there are allergies), it would take out the fun, but I wanted to make sure there was nothing in them that the kids would freak out about or be allergic to.
I also found this spoiler alert guide, so I was able to guide the game with the kids. Adults should ignore this card!
I noticed that one of the brownie brittles was chipotle flavored. I made sure that sample wasn't last but I didn't shy away from it either (ok, I gave them only teensy bites, leading them to believe it contained alcohol – their idea, not mine!).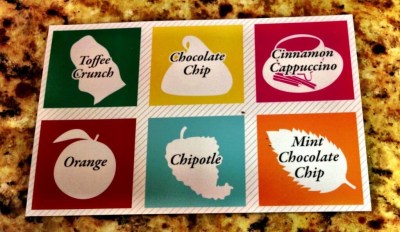 Big fans of the coffee flavors!
That face = chipotle. Not a fan, but she tried it! I loved seeing this picky kid try a new food. My kiddo liked it just fine, which is funny because she normally hates spicy.
The kids tried every flavor and loved most of them.  The mint & cappuccino were hits, as was the plain chocolate. Most of the kids decided that orange didn't belong in chocolate.
The girls guessed everything correctly. Our oldest one actually guessed chipotle as the spicy flavor. I was duly impressed.
Should you splurge?
We had an absolutely great time with our Jungle Stand Tasting BAR and I would totally do it again. I didn't realize how eager the kids would be for a tasting GAME. I called over next door and they rushed right over for the tasting game – and I didn't even know it was chocolate. They were all ready to try new tastes and I was truly surprised (and pleased) with their responses. I think this is a fantastic family activity to explore tastes together.   If you want to check out the Tasting BAR head over here to learn more or sign up!
Thanks again to Jungle Stand for providing the May Tasting Bar for our review!