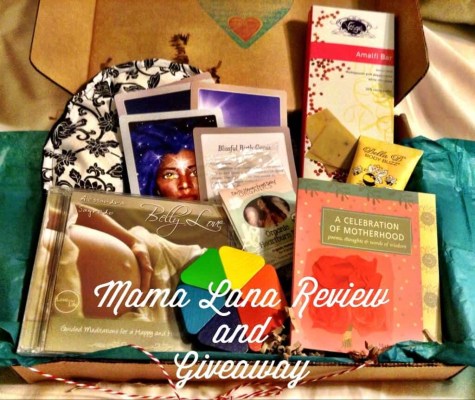 Mama Lana Box generously sent me their maternity and pregnancy subscription box for mamas in their ninth month, nesting and preparing for birth. Mama Lana is a new luxury subscription box for moms-to-be in months three through nine, plus a ready for baby box and a new mama box. Each box contains items for mind, body, soul, belly, and baby with the ultimate goal of bringing you bliss.  I love the positive warm messages emanating from this box.  Each box is $59, down to $51 with a longer subscription.
Currently, if you use coupon code mommysplurge10 you will save $10 off your order at Mama Lana. Don't forget to enter the giveaway at the bottom of the post!
The box is packaged with this nice Mama Lana tape on the outside.
And when you open the box it looks exactly like this. I am always amazed at how lovely subscription boxes are when you open them up, and that's why they make such wonderful gifts. Plus, someone else does all the work – so if you are a mom-to-be or new mom, what a wonderful gift for yourself!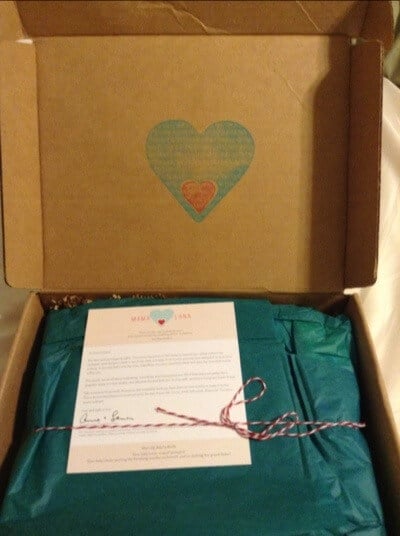 The nice information card tells me that we are celebrating, nourishing, and rejuvenating (pregnant) you! And that your baby is the size of a small pumpkin. Both of mine were the size of LARGE pumpkins. I was well nourished. And ragged by the end. I would have loved a gift like this!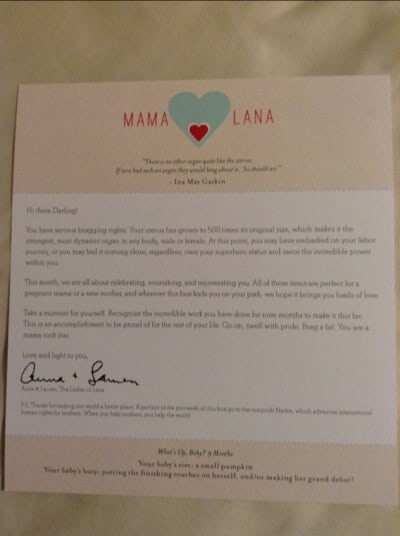 The information card gives all the details on the items inside in the Mama Lana categories. Each Mama Lana box contains an item for mind, body, soul, baby, belly, and bliss.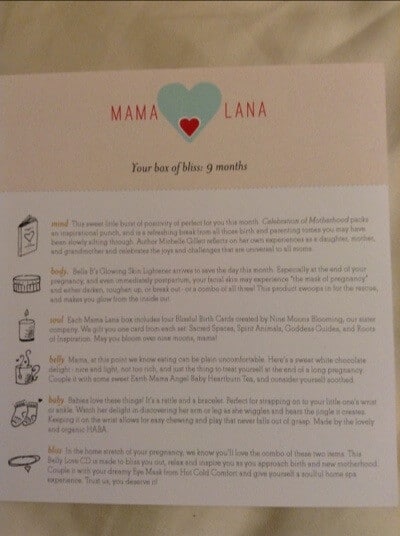 What's inside the Mama Lana 9 Months Box?
This is what it looks like when you open up the tissue. I didn't move a thing. Amazing right? I was impressed. If I were pregnant I probably would have cried.
Bliss: Belly Love CD and Eye Mask from Hot Cold Comfort.
The eye mask has a scent I can't quite place. I am not sure what to do with it. Do I microwave it? I might have missed something from this box. I was sick when I opened it.  I liked the CD of guided meditations. I thought that was a really nice thing for moms. I think everyone should try it. I did it with my first pregnancy and it REALLY helped with labor!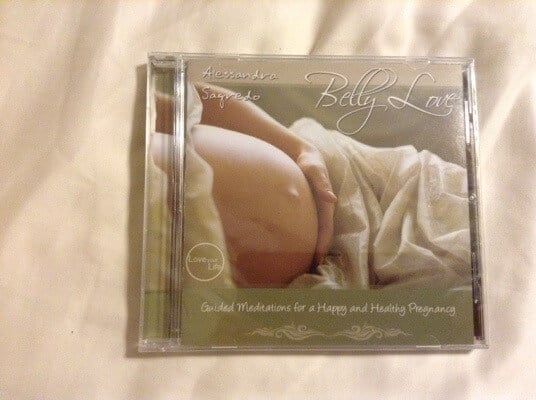 Belly: Bella B Body Buzz Post Pregnancy Recovery Cream. Free from petroleum, lanolin, mineral oil and parabens with organic aloe vera, cocoa and shea! It has shitake mushroom extract, plant-based collagen, olive, avocado, and wheat germ oils. It smells really good!
Mind: A Celebration of Motherhood. Poems, Thoughts, and Words of Wisdom. I thought this was a sweet little book that would really be appreciated in your ninth month!
Soul: Every Mama Lana Box contains four birth cards from Nine Moons Blooming. They contain messages like "I am vast, I am spacious, I am open for my baby." It might sound weird but meditation and self-hypnosis are great for new moms. It reminded me of Hypnobabies! Mama Lana Box obviously believes in holistic pregnancy care and I really loved that.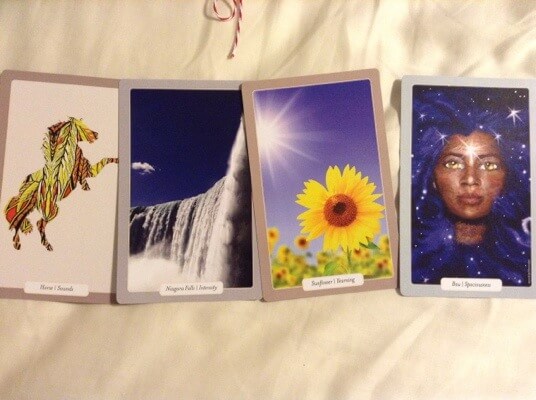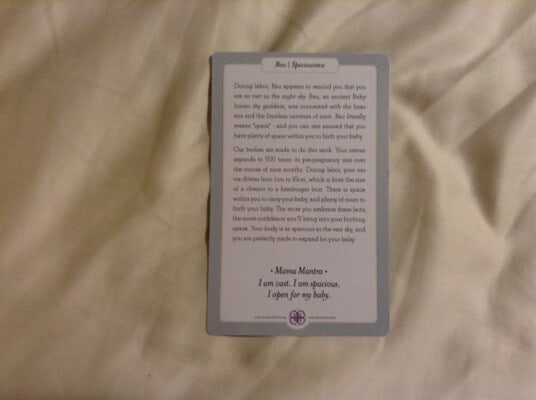 Baby: Haba Rainbow Teether. I thought this was super cute. My kids (2 & 4) tried to steal it. I don't know what they were going to do with it, but obviously they wanted it too! If you're unfamiliar, Haba is a German toy brand that uses natural, water-based, non-toxic lacquers to make the toys durable yet safe.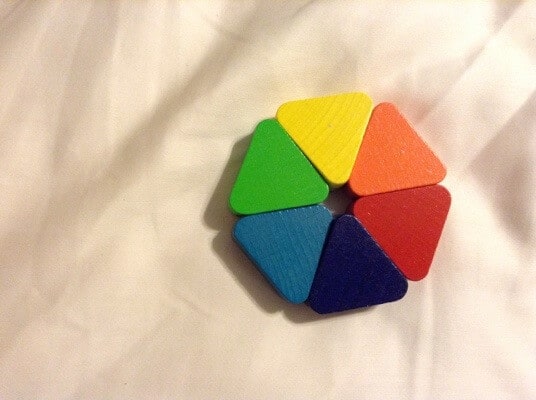 Belly: Vosges Amalfi Bar & Earth Mama Angel Baby Heartburn tea. I think this might get things moving if timed right! The Vosges bar has lemon zest, Madagascan pink peppercorns, in a white chocolate base. The tea is soothing mellow mint. Yummy in my tummy.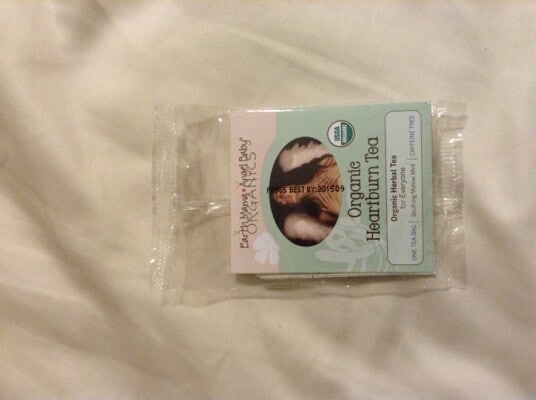 This was a great box! I loved it!
Should you splurge?
If you know a pregnant woman or new mom who could use some pampering, absolutely get her a Mama Lana Box or subscription! I liked how there was a for-baby item, but just one. This box is really about mom and her journey and preparation towards birth.  Mama Lana Box is a curated box, not a promotional box, so it's a bit pricier at $59, but I think well worth the price for such a lovely luxury gift, especially since boxes are valued at $65 to $100! It ALMOST makes me want to get pregnant again so I would have an excuse to get all the boxes!! Part of each box purchase goes towards Mama Lana's donation to Madre, a nonprofit that advances women's human rights internationally.
Don't forget promo code mommysplurge10 you will save $10 off your order at Mama Lana.
Thank you to Mama Lana for the box to review, as well as a box to give away! Giveaway runs through June 30, and you can return every day to enter.
Speaking of giveaways, I have a new Subscription Box Giveaway linkup. Readers bookmark it to find out new giveaways, bloggers, bookmark it to post yours!