We got our June Wittlebee Kids Clothing subscription box. This one was for my 4 year old daughter. I believe that the showroom was open when I was sick and I didn't pick anything for this box. Or something like that.  So it's all Wittlebee picks this month.  Whoops! If you want to sign up for Wittlebee if you use my link you will get $10 off your order plus free shipping. Wittlebee is $39.99 per month plus 5.99 shipping, which works out to $7.66 per item – there are ten items in a box. But please read my entire review before signing up.
I love how all the clothes come rolled up! This keeps the clothes nice and neat is a cute presentation.

What was in our June Wittlebee box?
This totally adorable Trish Scully Child outfit! That was the highlight of my box. I paid $25.98 for this box because of the referral credit, and I'm really glad I didn't pay full price for it. I was happy with what I got for what I paid for it because I love this outfit, but if I had full price I would have been unhappy.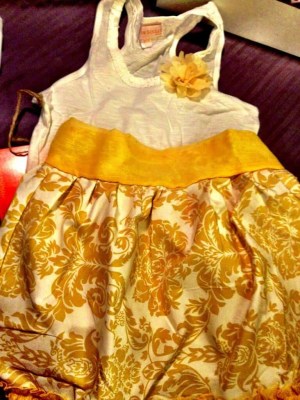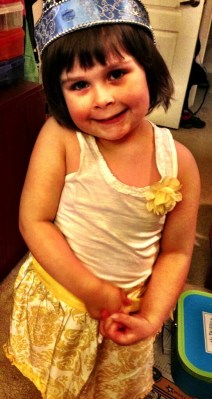 Then we got a pair of black leggings that we have already received in a Wittlebee box. I am waiting to hear back from them on this duplicate item. I wrote them several days ago to inquire and have heard nothing.
We also received 2 t-shirts and a tunic. I didn't feel that these items were up to par with the other items I have received from Wittlebee. My daughter liked the tunic but I will probably do something else with the t-shirts. I would post them on eBay but they aren't even brand name.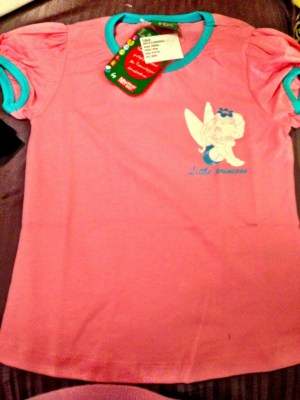 I didn't think they really belonged in our closet. If the tunic had had a tag, it probably wouldn't have made it to the closet either. I can buy graphic tees from The Children's Place at 4 bucks a pop or less that are much cuter, so beyond just the style, I didn't think the value was there. 
Wittlebee's promise is that they make sure shopping isn't a hassle. I would so much rather shop at Gymboree online (I shop online, return at the store, which is rare) than get crappy clothes sent to me. I have previously really enjoyed both the boutique style clothes and the Threadless tees. The below are not up to the quality I expected. After I resolve the issue with the leggings, I am canceling. I expect Wittlebee to go under anyways. If Wittlebee resolves its problems over the next few months and returns to quality clothing and service, I will reconsider. I really liked this subscription!