June is my very first Ipsy Glam Bag! Can you believe that? After all the fab May reviews I had to get in on it. It is only ten dollars (including shipping) and comes with a little bag/pouch and a beeeyoooutiful pink metallic bubble wrap mailer. I love this packaging. If you want to sign up for Ipsy or find out more information, please use my link! Ipsy Glam Bag gives referral goodies and I would love to get some. Thank you!
Ipsy Glam Bag comes with 4 to 5 deluxe samples and full-size makeup products. This is a makeup subscription (mostly), not a general beauty subscription. I haven't signed up for it in the past because I have a ton of bare minerals products (that don't really expire or go bad) and I sadly don't wear makeup all that much right now. Probably because my desk is on my makeup table right now. I have plans for this! Anyways, with Ipsy in June we are on the wild side!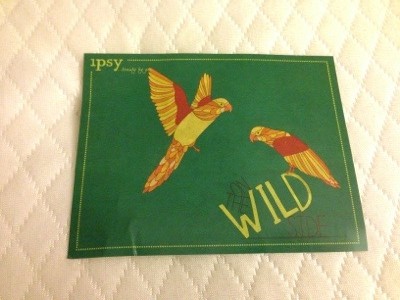 What's in the June Ipsy Glam Bag?

Everyone's Ipsy Glam Bag is different. Mine contained the following items.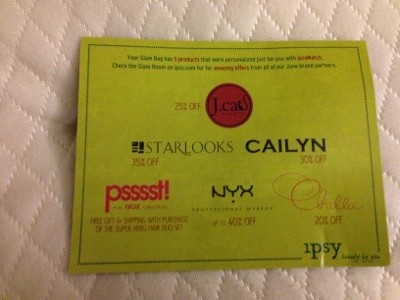 Chella Ivory Lace Highlighter

– Prob my favorite product in the box. It was so thick like grease paint almost but it did the job really well. I will use this frequently!

J. Cat Beauty Sparkling Cream Palette in Suzie

– This is a little much for me (I tried to take photos, they are too embarassing) – but it will make excellent superhero glitter! I read elsewhere that it isn't really for your eyes. Ummmm why didn't they tell me that? It didn't bother my eyes though and if I had decided to do mega black eyeliner and was going out (like I ever do that anymore, I am just pretending I am ten years younger than I am) I would totally use some on the corners of my eyes. But don't use it all over. Ghastly. Trust me on this one.

NYX Mosaic Powder in Dare

– This was nice and natural!

Starlooks Lip Pencil in Tipsy

– This is very pink and too coraly, until I added Vaseline. Then it was perfect.

Pssst! Dry Shampoo

– I have had this in another box and I like it and use dry shampoo. The smell is strong when applied but dissipates quickly.
Should you splurge?
I am not sure that I would get Ipsy every month but I think it is an awesome occasional treat. I had a lot of fun with it. I think it is a particularly great bag for a going out look or an older teen girl or a woman in her twenties. I am definitely subscribing again next month so I get more of a feel for this subscription – I know not all of them are quite so glittery! It is also a fantastic value for just ten bucks. If you would like to sign up for Ipsy I would love it if you use my link!
Did you get an Ipsy bag this month? What did you get in yours? Did it look good? Are you getting July's bag? Inquiring minds want to know!