I got my June Conscious Box today! Conscious Box is an eco-sampling box full of food, drinks, cleaning supplies, and personal care products. Boxes start at $19.99 but with a yearly subscription you save $36. Yu can get your first box free with Conscious Box coupon code FIRSTBOXFREE! Pay $7.95 s+h, but still a great promo, because it's always packed full! This box was super super heavy. Like POUNDS worth heavy.
You can also save 25% off a Conscious Box subscription (I think it's still valid) by using SUBSCRIPTIONADDICTION (From My Subscription Addiction).
What's in June Conscious Box?
This is what Conscious Box looks like when you open it. It's a really well put together box and always has a postcard. We send it to Daddy!
An information card! This is new for Conscious Box (unless I have totally missed it in all my other ones?).
This box was REALLY HEAVY. You can see that is packed completely full by their packing ninjas.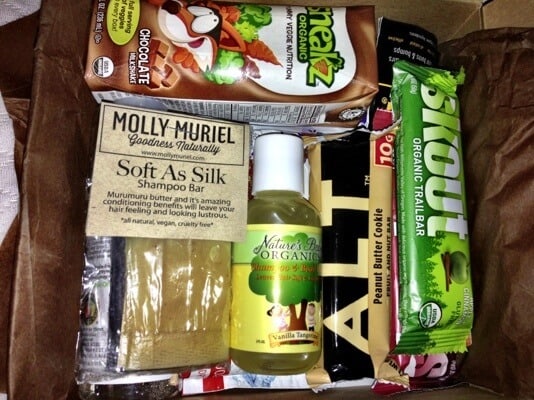 A letterpress Thank You card! I don't think I have received a paper product before, and I am going to use this to send to one of my South Hill Designs social hostesses 🙂
Organic Flavrz drink mix. This is concentrated juice with antioxidant extracts and I will totally feed the kids this. Or take it to the zoo, so I can flavor zoo water (which is gross).
Alt Peanut Butter Cookie Fruit & Nut Bar and Skout Organic Trail Bars in Cherry Vanilla & Apple Cinnamon. I put all these in the Kids' snack box. I keep a box of snacks from my subscription boxes and when it's snack time, we choose. I often split things in half because my kids are small.
$50 Wine Gift Card from NakedWines.com, All natural colon blast (find this in a Trash & Treasure soon!), and Son for Men razor bump cream. Awesome, hubby will love it.
For Kids – Sneakz organic chocolate drink (with hidden veggies) and Nature's Baby Organics Shampoo and Body Wash. Tangerine Vanilla. This is one of the most delicious smells I have ever smelled. Dunking my kids in it tomorrow.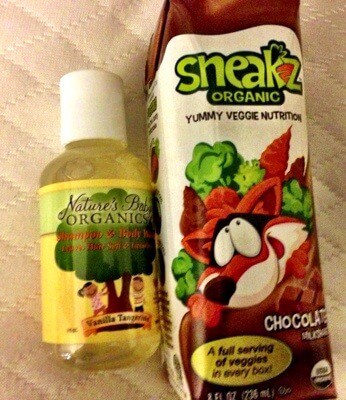 Molly Muriel Soft as Silk Shampoo Bar and Volcanic Ash Soap and Earth Friendly Products Lemongrass Hand Soap. Smells wonderful. I love herbaceous smelling soaps!
That's the box! I thought it was really super fantastic, didn't you?  May Conscious Box had a ton of coupons but the June Conscious Box didn't, which I prefer. I think besides the colon blast (it's not really called that, whatever), I will use every single thing in this box and enjoy them! I was happy to not get Tea in my box, too.  I totally recommend this box so you can try new healthy and organic items without breaking the bank!