I checked my tracking link this morning and I knew that my July Julep Maven box was arriving today! Happy Early Birthday to me! It was only shipped 2 days ago. How do they get it here that fast? It can't go by air because it's nail polish. Amazing. Thanks, Julep! The box was waiting for us when we came back from the playground. Now we are all ready to go to the beach. Wish we had one! We'll just pretend.
I really wanted to gift myself the entire California Coast collection (it was soooo pretty and I have all the pictures up if you want to see them but I'll post the picture of the whole collection below) but really, I can only handle so much polish in my life. I like getting Julep monthly and I didn't want to go overboard. I already have serious regrets about not getting everything, but there will be more next month!
And pssst come back on Monday for the start of Birthday month. There just might be something from Julep in the July giveaway!
This month I selected the Julep Bombshell box, because it was purplicious. I didn't even get any add-ons! I should have picked up some Sea Salt Texture Spray, but I forgot to go back and add it!
What's in July Julep Maven Bombshell Box?
I thought this box was really big for what was inside it. They needed the extra room for the Beach Tonic!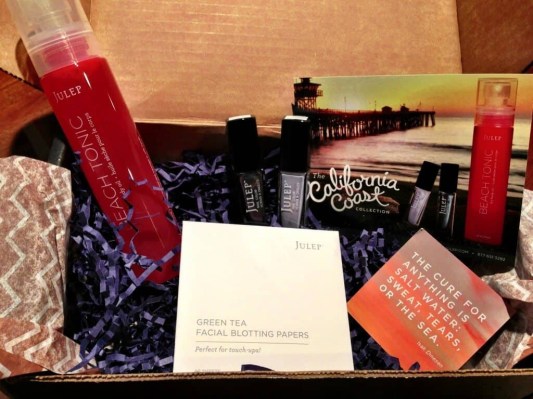 First off, the special extra this month is Julep Green Tea Blotting Papers. Normally I have quite dry skin but it does get a bit oily during the warm months and I will use this! When Julep first started coming out with the additional beauty (as opposed to nail polish) products I had really mixed feelings but I am very happy with how everything turned out. Julep is on a roll!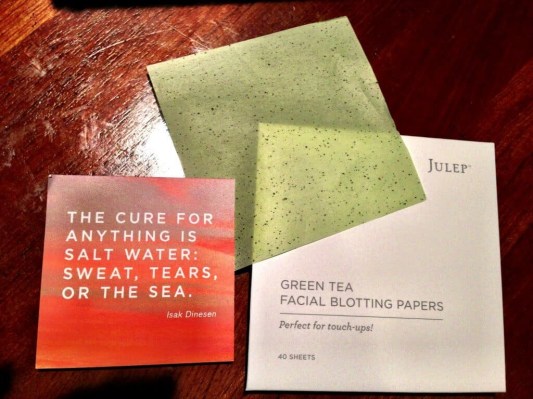 What you cannot tell from the pictures is how delicious these blotting papers smell. I wanted to eat them. I don't even like tea.
Julep Beach Tonic Dry Body Oil –  This smells great and is totally different than the dry oil I got in my June Glossybox! It soaked into my skin right away and wasn't messy. I love the dispenser – it sprays a fine mist. I thought this was a really thoughtful product and I will probably use it all up in the next two months! Julep says it's a citrus smell and it is, but it's a "fragrancey" kind of citrus, not a straight up citrus.
Julep Joanna –  Joanna is a lilac frost and it is more gorgeous swatched than it is in the bottle!
Julep Blakely – Blakely is purple & green "molten." This one was definitely my favorite of the whole collection! It's kind of like a charcoal with purple and green in it. I think these molten polishes are great.
I love how these purples are totally different and go together so well. It's my birthday month and I love purple (ummm seriously have you looked at my blog? It's like purple-tastic!) and I am going to wear the crap out of these colors all month long. HAPPY PURPLE BIRTHDAY TO MEEEE!
But seriously, I think these are super wearable colors and will go with nearly anything. I almost don't regret getting the whole box!
Did you get Julep this month? What profile did you get? Do you love it? If you haven't signed up, you can sign up for Julep here and use coupon code FREEBOX to get your first box free! (Shipping is $3.95) You can skip every month and only get the boxes you love, plus you can get the Maven discount and free shipping from then on!