Ooooh it's time for Hits & Misses!  My weekly roundup posts give me a chance to say what was really the best all week. I need a better name for this post!
Notices
First of all, look for the Birthday stuff starting on Monday! It's my birthday month. YAY.
Tomorrow is the last day for the Mama Lana Box Giveaway!
You can get 6 months free of PicMonkey Premium by using code ISTE2013. If you already have it, it will add 6 months to your subscription.
And WHOOPS! Sorry email subscribers, I had your newsletter paused. You're getting 3 days worth today!
Stuff I Bought
I'm adding it this week – maybe you want to know the things I personally buy? Plus I can put in all my referral links har har. If you're here, you're probably here to shop anyways. Thanks for using them if you're shopping!
Vitacost: Back to Nature Bugs Mac & Cheese. My kids love it, it's natural, and it's bug-shaped (the shaped pasta is way easier to eat). Also got 2 more bottles of Vitacost Omega Fishies (kids love em), some SweetLeaf Stevia, and some Coconut Flour. We are going to try our hand at coconut flour donuts in the donut maker (didn't I promise this months ago?). If you want to check out Vitacost you can get $10 off your first order. Don't forget to go through Ebates when you shop, too!
Living Social: I totally bought the Slushy Magic deal and then ordered it immediately.
Amazon: Wok Ring, to go with my new salt block from Bespoke Post (so I can use it on my electric stove).
Taste Trunk: I got the gourmet box. I have a 25% off code. Read the post!
Gymboree: I scored a pair of free shoes for E with my Gymboree Rewards from my Gymboree Visa. Love Gymboree. My kids' clothes are 90% gymbo. So cutie cute!
do you care what I bought at Costco? I bought 5 lbs of kiwis, 2 pounds of strawberries, 3 pounds of bananas, and 3 pounds of dried apricots. FRUIT CENTRAL. And cupcake jammies for the kiddo.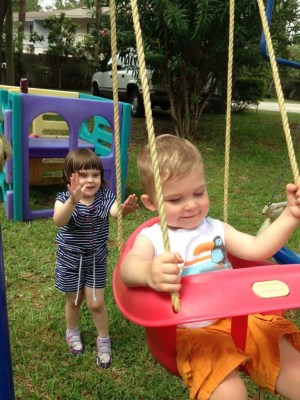 Hits
We also really liked the Goody Ribbon Elastics we got in the Sunkissed Influenster Vox Box! (which I got for free) A stole them immediately so I put her hair up the best I could – we just had it cut!