This post is part of a sponsored campaign by Goodies Box and Walmart Labs!
I'm always singing that Daniel Tiger Song – You gotta try a new food because it might taste goooo-ood! And it's true, we do have to try something new and I do anything I can to get my pickiest child to try new stuff. It took me a year to get her to eat a tortilla. And I'm totally guilty of buying a huge box of something new at a warehouse store and having it sit there because my kids don't like it. I have pretty much stopped doing that and now I purchase boxes like Goodies Box to give my family new things to try before I go all-in. If you have heard of Goodies Box (or haven't), read on because I have a coupon for you!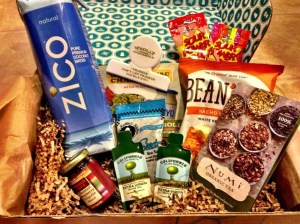 For just seven dollars a month, Goodies Box ships 5-8 new snacks right to your door. You'll see from my past Goodies Boxes that the box usually contains a large beverage too! It comes beautifully packaged in a huge giant box and I have said over and over on my blog that Goodies Box is a must have subscription. It's a great value and has an excellent rewards program. Plus everything is super yummy. We have liked nearly everything that has arrived in our boxes and I have found new products that we are totally wild about.
Every month after you get your box, you can earn points towards a free Goodies Box or towards full-sizes of the stuff you tried by reviewing the products you received in your box.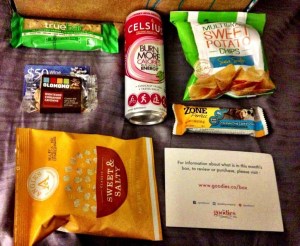 Signing up for Goodies Box
Membership for Goodies Box is limited but I have a special coupon that will let you skip the waitlist. Sign up for Goodies Box and enter code JUNEVIP to get your invitation without waiting in line!
Just head right over here to sign up. Enter your email and the code JUNEVIP. Then, check your email in a few minutes. You'll get two emails – a status update and your invite. Create your Goodies Box account, set up your password and billing information, and then you will be all set up for a Goodies Box next month.  You can also choose to gift Goodies Box. Signing up now locks in the $7/month price! Then you'll be on your way to trying new foods and flavors!
Thanks to Walmart Labs for sponsoring this post!