Diaper Dabbler kindly sent me a training pants variety pack to review.  Diaper Dabbler provides diaper sampler packages for new moms or moms of growing kids to sample diapers and determine which one is best. We got the Little Learners 2T-3T training pants package ($24). My son is gleefully trying to potty train himself (anyone who has been through this knows that it's not as great as it sounds…).
Although I got the training pants package, Diaper Dabbler has newborn, size 1, and size 3 packages in different varieties like natural, or store brand, or regular mainstream diaper brands, and you can check out all the different packages at the Diaper Dabbler website. Who knew there was so much diaper variety? (Me, I'm just saying this for effect). You can also pickup the super mega Prepared Parent package with basically all the diapers in both newborn and size 1. We are past that around here. Thank goodness! But what a great gift for an expecting mom.
Currently, use coupon code 3R6P982 to save 10% on a Diaper Dabbler Variety pack!  It comes in a nice medium sized box. Shipping is free on orders over $35 and you can also have it gift wrapped. This is not a subscription box but it's a box that comes in the mail and I've had it in my directory forever since I think it is so useful.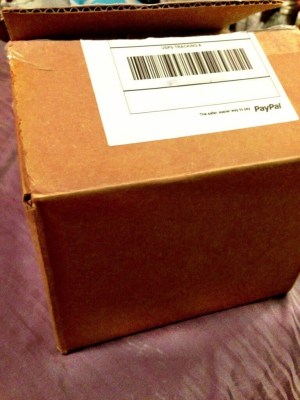 What's inside a Diaper Dabbler package?
I thought the packaging for this service was really nice (because you know, it's diapers, I didn't expect it to be pretty!).  There was a letter and a card – I think many of the people receiving this package are doing so as a gift, so the letter explains what Diaper Dabbler is. I love the owl. It's so cute!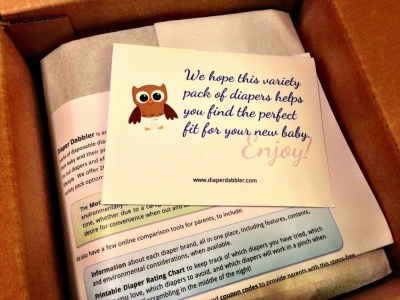 The card folds out into this rating chart. Which is totally helpful because after you change the diapers and throw them away, if you don't think about it and write it down, you might not be able to compare all the diapers in the package. Especially if you are a new mom or caregiver. Because your brain is frazzled enough.
I got four packages of training pants, each including 3 of each variety. All the packages are individually sealed and labeled (next picture). This was a review package so it contained only 4 samples but the full package will contain 5 varieties, with 3 each.
I love that these are sealed up and the presentation is so nice and this is so giftable. I don't even know how they get the diapers in there but they are totally professionally packaged. I took some out and tried to stick them back in and, well, I'm not a professional.
My daughter said "Mom, where did E get that cool awesome Diego diaper?" (The Pampers Easy-Ups) He was pretty stoked about it! I'll reserve my judgment about which training pants I am going to select until we are done trying them out and the requisite activities have been performed in each of them 😉 That's the real test of training pants. Don't ask me how I know.
You can find out more about Diaper Dabbler or order a package on their site.
Thanks Diaper Dabbler for providing this package for me to review!