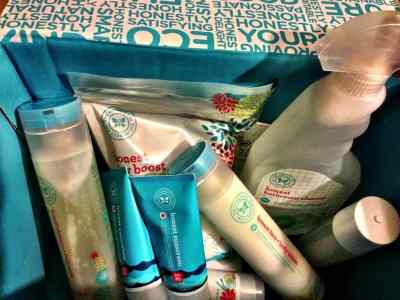 I just got my Honest Company Family Essentials Bundle today – chock full of cleaning supplies and body products and sat down to an email announcing The Honest Company's new Health + Wellness Bundles! Any two of the below products bundled is $39.95 and with Honest.com if you order more than one bundle you get free shipping! There are now Honest Company Prenatals, DHA/Omega-3 from WILD fish (important because of mercury levels), Baby & Toddler Multi Powder, and Kid's multis are coming soon. I love how I can get everything all in one spot.
Both the prenatals and the Baby & Toddler powder are real-food based with probiotics. They look like great blends and I am looking forward to trying them. Heck, I can't believe they didn't promo these as box samples before launch! I can't wait until they release the kid's multivitamin!
Coupon for new bundle subscribers
As a reminder, for new subscribers when you sign up with my link you can save $10 off your first bundle – Health & Wellness, Family Essentials, or Diapers & Wipes – by using promo code  INVITED10. Thanks!