Kona Kase is an endurance nutrition subscription box. Kona Kase sends energy bars and endurance nutrition samples in a bright red "Kase" for $15 per month (shipped!). They will be launching a store to purchase full-sizes of your favorite samples.
What's in the April Kona Kase?
A 15% off coupon for Cory Vines Tees. That was basically all the information on the tees except the photo. I visited Cory Vines and found you had to be a member to shop. So I signed up. That's a referral link. It's an online only activewear company with free shipping and free returns. Less flashy than Ellie and for both genders too. Neat.
So what did we get?
brown sugar rosemary cashews – doesn't that sound awesome? YES
a savory Journey bar. Wow, I thought that was super cool. I don't think I've ever really seen a savory (with herbs) energy bar!
Chia drink mix – instead of buying premixed. Very good, less waste, easier to carry for sport.
Greek Yogurt Bar
A soy joy (that's my meh item, I've had these before and don't care for them)
Two zing bars that look awesome and yummy
a picky bar
and a PowerBar fruit pouch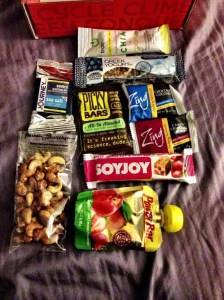 Should you splurge?
What struck me most about Kona Kase is how adult and unique it is! This is the perfect snack box for someone watching their health or their macronutrient balance or just really needs sport-focused snacks. That being said, my kids will probably love all these things too. I would totally get this again and what's so great is that I got a personal thank you a few weeks ago for signing up for Kona Kase. I thought that was a super great touch and I would totally recommend this box.
You can sign up for your own box at Kona Kase!