It's Pop Sugar time! I got my box later than everyone else (wah-wah) but that's ok. We're greeting the season in style!! SPRING if you need a reminder!! March brings spring!
If you don't know already the POPSUGAR Must Have Box monthly subscription box is a lifestyle box filled with monthly must-haves selected by the POPSUGAR editors ranging from personal care to fitness to accessories to home and luxury items and interesting edible treats. A great variety box that you can inhale all at once or dole out to yourself (or to others!) as the month goes by.
If you sign up with this link and use the code SAVE5PSMH by the end of March you'll get $5 off your first box or subscription. REFERFRIENDS no longer works (I tried!).
March Pop Sugar Must Have Box
Here it is! I'm sooooo excited!
What's inside March Pop Sugar Must Have
Tadaaaaa!
Hollywood Fashion Secrets Sweater Saver. $7.16. Ok, I admit, I find the reviews of this device somewhat scary. Be careful!  The good news is if you don't want to use it on your clothing, you can use it on your feet. That's probably springier than a sweater stone anyhow!
The New Black Nail Polish. in Pardon My French. $10. 2 teensy 4mL bottles. a really great neutral taupe and a deep deep blue. I love them! They make me feel better about missing March Julep, too! I am sooooo thrifty! I want to go ahead and say that I prefer the tiny bottles because I might someday have a shot at reaching the bottom!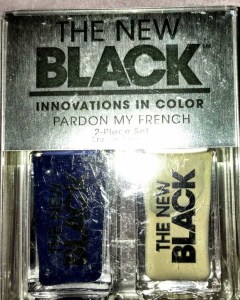 Peeps! I am saving these for the kids on Easter. I have purchased zero candy because I figured I would end up with some. They will love them!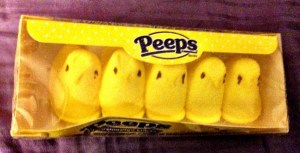 Hollywood Fashion Secrets Fashion Tape Assortment Pack. This is a SAMPLE y'all. And they mean sample. But I'm thrilled to try it out because A) I need it (I have seriously have had hem emergencies) and B) there's a 50% off coupon! Sweet!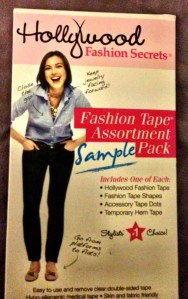 Heather Belle Signature Tassel Necklace. $72. I feel this would look fab with a silky top and black pants!
The Laundress Specialty Wash. in Lady. $14.71. As small as the fashion tape sample was, this is a full-size object. 16 ounces!! I don't have any delicates wash so I was really happy to get this so I can stop washing my crap in Dawn!
Props to Pop Sugar for taping the lid & wrapping the whole thing in bubble wrap. Speaking of, the bottom of this box was especially well padded.
Corkatoo Corkscrew. $13. Glug Glug. To be honest I stuck this in my gift closet but I will totally whip it out if I have the opportunity.  It's adorable. I love it.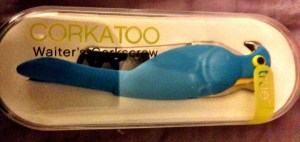 Buxom Sculpted Lash Mascara (Bare Escentuals). Now you know I have a slight bare minerals problem. So I was thrilled to get this in my box. And the wand is totally wild! Check it out! Did great things for my lashes too and I felt it curled as promised – I did not curl my lashes before (or after, gross) applying! No parabens, etc. Yay! $19. Free coupon for a lipgloss (I already have) with a Sephora order. That's ok, not planning on Sephora anyhow!
You should be able to click on the pics to magnify. That's the actual wand, I opened it.

I really loved this mascara because it wasn't messy to put on at all. I had zero smudges. Thrilled with this! And I was not a fan of the original Buxom mascara.
Should you Splurge?
Ok, I thought this box was great. Huge huge value even if you discounted everything by half and well worth the money. I thought everyone could use just about everything in this box too. I feel like Pop Sugar has redeemed itself from some of the prior stumbles and it seemed like it had a lot more value to me. I was really happy with what I got for what I spent on this box. I hope the rest of the year for PSMH is as great as this box was!!  You can see more information about POPSUGAR in the subscription box directory! Don't forget that if you want the March box you can *try* to get on the waitlist for it.
What did you think about this month's box?
I tried making this widget, don't think it turned out quite right, but I'm putting it in anyways! These aren't all exactly the same as the box!