While you are busy planning your surprises for an Easter without candy (check out all my other ideas! and check out Lolli's Easter Without Candy Linky), don't forget to…
Have your little one leave a carrot out for the Bunny..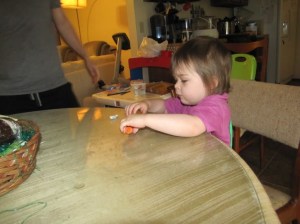 And whoops, the Easter Bunny got some of his tail stuck in the door!
I think we forgot this last year (we did a big egg hunt) but we'll be doing it again this year. Happy Easter!