Healthy Surprise is a discovery box and a "supply" box. There is a lot in this box!.  All the snacks in it are natural, vegan, dairy-free, gluten-free, and soy-free. Healthy Surprise comes in three different sizes ($40, $66, and $99 monthly, shipped) so you can get what your family needs shipped to you monthly without worrying about hunting down these snacks all by yourself. This is also a great subscription for a health-conscious office.
Every month Healthy Surprise sends out all new snacks – they don't repeat any snack two months in a row (although they might send different flavors). And they bring back in demand snacks, which is neat.
We got our February Healthy Surprise box!
I made a video, once again, Vine ate it.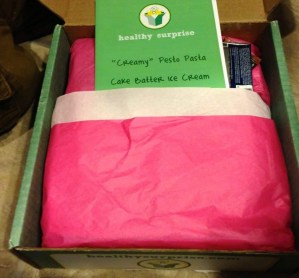 There was not a traditional information card in this box. Instead I got a pamphlet on juicing and my blender, and a nice note and explanation of how the items are selected and the Healthy Surprise criteria for inclusion.
What was in the box
Caveman Crunch (paleo trail mix) [Amazon freaks: CC bars] $2
Gopal's Raw Alchemy Enzyme Rich Brownie $2.75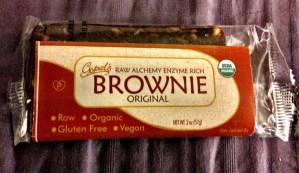 Barefruit Crunchy Cinnamon Apple Chips $1 – I didn't even need to let my kids try this to know that they'll love it. But they did.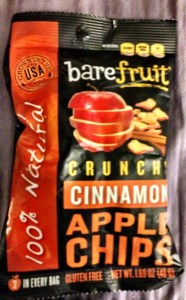 Gopal's Pumpkin Sprouties (sprouted seasoned pepitas) $2
SeaSnax Sea Sprinkles $7.20 – kids wouldn't touch them. I tried one. Ick. I hate sea-anything. It was also messy and oily. I wanted to like them because they smelled like sesame.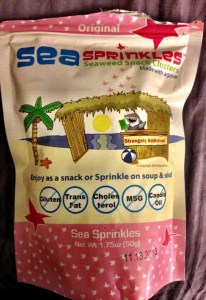 Hail Merry Grawnola – Orange Cranberry $5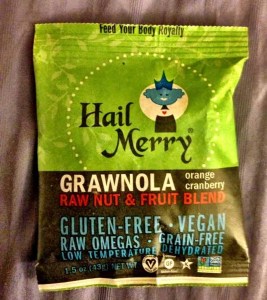 Chipotle BBQ Beanitos Black Bean Chips $0.75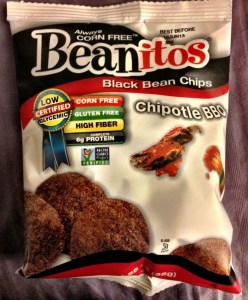 Health Warrior Chia Bar – Acai Berry $1.60 – Bar is good until August but it has the old packaging.
Righteously Raw Cacao Squares – Pure Dark & Synergy Spice $1.80 – I  LOVE the idea of raw dark chocolate.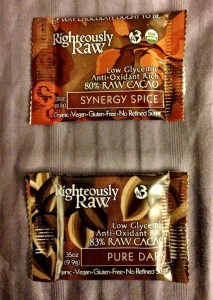 Mysteriously not pictured: Hail Merry Coconut Chocolate Macaroons $5. Bestie says "these are even denser than Passover macaroons!" (usually not a good thing, but in this case, yes).
Should you splurge?
I found this super vegan no-anything box oddly compelling and strangely accessible. To be honest, most of these snacks are very hard to source outside a grocery, and if I ate like this I would have zero problem just signing up. Given the cost of this box ($33+6.99 shipping) I would choose to sign up for the larger $66/month box and cancel it every other month. Unless of course you need more, then just get it monthly! I really liked their commitment to vary the snacks, too.
You can sign up for Healthy Surprise and your first box will be shipped by the next business day or earlier!