The Very First Bug Out Box is here!!
I am so excited to bring you this review. I was in the middle of writing a post on how I have prepped my family to deal with urban emergencies when this box launched. I contacted them and they sent me this for review (that means I got this box for free). I am thrilled to bring you this inaugural review!
Bug Out Box is a $27.95 per month subscription box shipping you 5-8 curated survival items. Each box provides you with the tools you'll need to survive the next catastrophe. Bug Out boxes are filled with quality survival gear handpicked by their trusted preppers, survivalists, and seasoned outdoorsmen. The included guides walk you through the proper use of each item.
With your Bug Out Box you can prepare for different disasters with Monthly Survival Themes – like wilderness survival, urban riots, and zombie Apocalypse. I love this unique and practical subscription!
The Bug Out Box comes in this white box (which fits inside an apartment mail panel, THANKS!) and it is jam-packed!
What's in the March Bug Out Box?
The theme for this month is… lost in a forest miles from civilization!
The box comes with an item list card, as well as a card with helpful tips on what to do with each item. The printing is a little fuzzy on these, which I am sure will be fixed in the next box. Still readable.
Survivalists Pocket Saw – when I saw this I actually thought it was Hunger Games jewelry. Um, ok Brandy.* Anyways, this is so cute and adorable [this is what happens when you give girly ladies saws to review – although I am a girly lady with a love for power tools and build my own furniture] and PORTABLE. And not DANGEROUS. I love it and wouldn't have ever ever thought of it.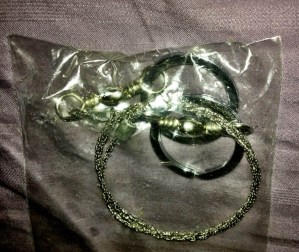 I didn't have any wood to cut with this, so I cut the box instead.
Emergency Zone Emergency Blanket – A totally essential item in an emergency. Emergency blankets retain 80% of your body heat. If you are cold and wet you need to huddle up under one of these mylar wonders so you don't die of hypothermia.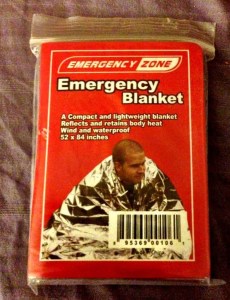 Coghlan's Waterproof Matches – Have you ever tried to light wet matches? You need these!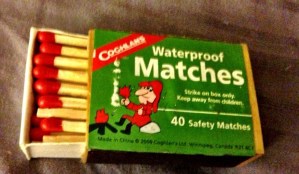 Coghlan's Emergency Stove – Perfect! I picked one up this fall (a different model) for my own emergency kit and it's great to have two. This comes with little fuel tabs so you don't even need to buy Sterno, although you can use Sterno with it.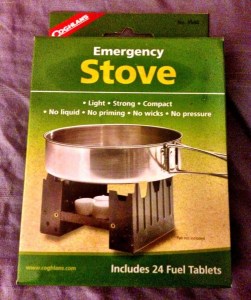 Nature Valley Sweet & Salty Nut Granola Bar – Granola bars are great fuel for you in an emergency or even just camping. Be sure to rotate your stock (i.e., keep a box with your emergency supplies but switch it out every few months).

Hand-pressing Flash Light – Another perfect and essential item. In an emergency you aren't necessarily prepared with batteries and what not. I cranked it up and turned it on. I am hiding this because my kids will steal it and then it won't be ready to go in an emergency. It's a must have for your emergency kit.
BugX30 Wipe – All your emergency preparations suck if you're going to die of Malaria or other terrible insect-borne disease. You need insect protection. This is a great way to try heavy duty protection – if you like it, buy more! Yes, it uses DEET. There is a time and a place for everything and in a bug-infested emergency it's not time for citronella. Having A) grown up in swamp land and B) possessing the most delicious skin (to bugs anyways – whenever I leave an outdoors area due to bug bites everyone starts complaining that they are getting eaten) on the planet, this is a great reminder for me to get a supply of DEET-based bug repellent.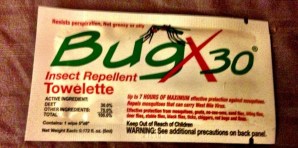 Mouse Trap with Scented Trip Pedal – There is a reason I didn't let my kids open this box with me! OMG THIS IS FOR MY HUSBAND. [Ok, I'm not trying to be sexist, but, ew.] Seriously I don't know if I could do it. But I'm a mama bear and would feed my kids no matter what. But I would stuff their little faces full of anything else before I had to deal with feeding them a squirrel.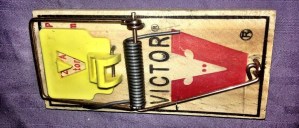 Emergency Purified Drinking Water – This is like last resort water (the information card tells me this). Bug Out Box helpfully informs me I shouldn't just pop this open and glug it down, but use it only if I really need it and can't get any more water.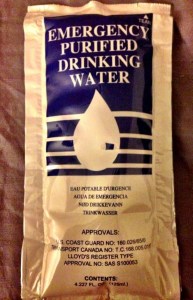 Should you splurge?
Unless you are already a survivalist and live on your compound (which is OK if you do – you will last far longer than us!), yes! This box can help you prepare for emergency situations. It's something none of us like to think about it, and most of us don't know where to start. It will also give you good ideas of what to purchase extra of – like bug repellent. This is a great way to try the items you need in bulk and select what you want to stock up on before you really need them. Or you could just throw this box in the truck for a day of tooling around in the woods. Or send it as a gift to a friend. This is a nice dude box too, you know. If there is a dude in your life that you just don't know what to get, this would be cool.
I'm not totalling up the prices on these – the cost of shipping everything individually would be ridiculous, and these are hard to find items. I think between the curation service, the tips (these cards are going STRAIGHT into my backpack along with the other tools), and the items themselves this box was well worth it! (Mental calculation – just over 20 bucks retail). You can sign up for your own Bug Out Box subscription here! You can also find Bug Out Box in the Subscription Box directory.
Thank you to Bug Out Box for providing this box for review!

*I digress, but I would totally bling myself out with a Hunger Games pin in the event of global thermonuclear warfare or just my average emergency. It's six bucks, I'm totally getting one.