I'm going to be posting mini reviews of each set in the Julep Brights Collection. I sprung for the big box this month. Way to overcompensate for skipping last month, Brandy.
Anyways, here's a first look!
What's in the March Julep Maven Brights Collection?
This month came with…
A special treat… ROCK CANDY!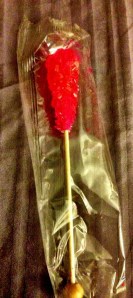 This, of course, is a nod to the Purple Rock Candy Nail Glaze included in the collection (or as an add-on to the single boxes). It's aptly named "Candy."
A nail product… Mighty Nail & Cuticle Serum
This is an interesting product. It contained peptides that build keratin (for your nails) and collagen (for your cuticles) and is supposed to provide fewer ridges and less splitting and brittleness in 2-3 weeks. Apply twice a day for two weeks then once a week for maintenance. I'm going to set a reminder to do it and see if I notice any changes!
A hair product… Dry Clean Invisible Dry Shampoo
I have a ton of dry shampoo but I gave this one a whirl. It is very very fine powder, not sticky, and really doesn't have a fragrance. TEN FINGERS UP. IT'S A WINNER. Doesn't provide the styling power that normal dry shampoos do but a lot of them just try to do too much, you know?
Nail colors included:
Candy – Rock Candy Nail Glaze. This one was in the Brights Collection box or as an add-on. I can't wait to see it on! Sorry, no link!
Boho Glam: Lena and Kaylen. Lena is Teal with gold shimmer and it is GORGEOUS. If you didn't get this one, you should. Kaylen is Neon orange crème. Very neon.
Bombshell: Ally and Janel. Ally is Electric blueberry frost and it smells funny? Janel is Pink raspberry frost and I'm unsure why this one in particular got in this box. It didn't seem like it fit the theme.
Classic With a Twist: Jackie and Avery. Avery is Hot pink crème and Barbie Pink in my book. Jackie is Maraschino cherry crème and I would've called it candy apple red. Same diff? Love both.
It Girl: Abbie, Eden, and Mackenzie. Mackenzie is Sour apple green frost. Eden is Bright violet crème. Abbie is Sunshine yellow crème.
LOVING how the names go with the themes. Never noticed that before.
The colors weren't packaged together in their normal sets, which I didn't realize until attaching the pictures! I think they must be packaged for later promo sets?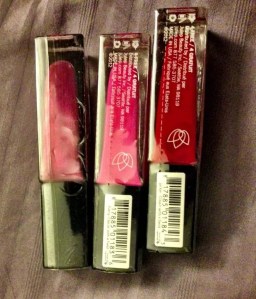 I will post mini reviews of each of the four separate Maven box colors and I will update here with links!
April It Girl
April Classic with a Twist
April Bombshell
I swatched all of them just for yooooo!

Should you splurge?
I love Julep Maven! It's one of my favorites! I probably won't ever skip a box again. I have had sooooo much fun painting my nails, painting the kids' nails, and painting my friends' nails. Bestie will steal some of these colors from me, but I will try to forgive her for it.
Sign up for Julep Maven and get your first box for just one cent with code JULEPVIP.
See additional information about Julep Nail Polish subscription box in the directory and more Julep reviews!