Contest ends midnight of 12/13. At night. Not in the morning.[/box]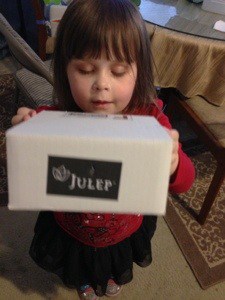 I am not a winner.
That's okay – I love my mystery box (and the special girl holding it, that makes me a winner!)! I got this great lip polish in Camellia
Because I still believe I am ten years younger than I actually am, I LOVE BABY PINK LIP GLOSS! I am excited. One of the reasons I'm buying a lot of makeup is because I have neglected to get anything new in about 4 years. I am psyched to have some fresh pink lip gloss. Errr polish!
And five nail polishes! All for $20!
I love the rose. I think it's the perfect hot pink! It's not neon, it's just super pink! Maybe it is neon. I dunno. Baby E totally wanted to use it to paint his papers.
As I mentioned yesterday on my Man Repeller review, I wear purple glasses (ok, I so need an extra pair in brown). This purple polish exactly matches. Yes I am a purple freak.
I know. It's too much. Purple is my great weakness.
I don't know about that copper though. I like copper eyeshadow because it highlights the blue in my eyes. But I think it would be weird on my hands. I am torn between seeing how it looks and giving it away.
What did you get in your Julep February Cupid's Mystery box?
Sign up for Julep Maven and get your first box for just one cent with code PENNY. It is very easy to skip or cancel and really worth a try for so little. On my penny order I bought the Matte topcoat and got free shipping on my whole order instead of paying the shipping on just the box.
See additional information about Julep Nail Polish subscription box in the directory.
 Mini Update
I painted my nails with Julep's Jennifer polish, using two coats of Oxygen as a base (I know they said not to use it but I don't have a base coat!) and the Freedom Polymer polish. They look FAB! The base coat really helped my polish not be so messy.